James L. Wade III, M.D., FACP
Posted: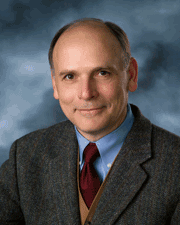 Dr. James L. Wade III, medical oncologist, is the founder of Cancer Care Specialists of Central Illinois, S.C. He primarily sees patients at our main office on Monroe Street, but also sees patients at Crossroads Cancer Center in Effingham and St. Vincent's Memorial Hospital in Taylorville.

Dr. Wade received his M.D. degree from the University of Illinois College of Medicine, Abraham Lincoln School of Medicine, Chicago, Illinois, in 1978. After completing his residency in Internal Medicine in 1981, Dr. Wade served as the Chief Resident in Medicine at the University of Illinois Hospital, Chicago. In 1984, he completed a fellowship in Hematology/Oncology at the University of Chicago.

Dr. Wade established a Medical Oncology and Hematology practice in Decatur in 1984. Since then, he has developed the practice into a multi-specialty group, including twelve physicians who provide services at five cancer care centers and several area hospital clinics. Dr. Wade has actively supported and participated in clinical research trials, published many articles in the field of oncology, and served on the boards and committees of several state and national oncology associations. He has served as Director of Medical Oncology at Decatur Memorial Hospital since 1991, Medical Director of the DMH Cancer Care Institute, Co-Director of the Hospice Program, and Principal Investigator of the NCI sponsored Central Illinois Community Clinical Oncology Program.


Professional Certifications & Affiliations
Board Certified, Medical Oncology


Diplomate, American Board of Medical Examiners, Internal Medicine Fellow, American College of Physicians


Medical License - State of Illinois


American Society of Clinical Oncologists, Board of Directors and Clinical Practice Committee


Association of Community Cancer Centers, American College of Physicians, American Medical Association, Illinois Medical Oncology Society, Central Illinois Community Clinical Oncology Program (CCOP)



---

Cancer Care Specialists of Central Illinois, S.C.
2880 N. Monroe - Decatur, Illinois 62526
(217) 876-6600