Benjamin T. Esparaz, M.D., FACP
Posted: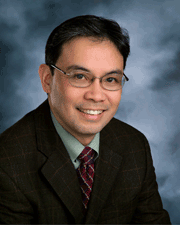 Dr. Benjamin T. Esparaz has been a medical oncologist with Cancer Care Specialists of Central Illinois, S.C., since 1989, and is one of its primary founders. He primarily sees patients at our main office on Monroe Street, but also sees patients at Pana Community Hospital. Aside from seeing cancer patients, Dr. Esparaz has a special interest in seeing patients with clotting and bleeding disorders.

In 1980, Dr. Esparaz received his M.D. degree from the University of Santo Tomas Medical School, Manila, Philippines, where he graduated Magna Cum Laude. He completed his residency in Internal Medicine at the University of Louisville Health Science Center, Louisville, Kentucky, in 1986, and went on to complete a fellowship in Medical Oncology/Hematology at Northwestern Memorial Hospital in Chicago, Illinois.

In addition to his practice with CCSCI, Dr. Esparaz has been Medical Director of the St. John's Hospice Program since 1996. He was chairman of the Department of Internal Medicine at St. Mary's Hospital in Decatur from 1998-2002 and was chairman of the Pharmacy and Therapeutic Committee at Decatur Memorial Hospital from 1995-2002. Dr. Esparaz was appointed Clinical Assistant Professor for the SIU-Family and Community Medicine in 1996. He was elected Fellow of the American College of Physicians in 1999. He currently serves as Co-Investigator for the Central Illinois Community Clinical Oncology Program and serves on several medical committees.
Professional Certifications & Affiliations
Board Certified, American Board of Internal Medicine and Medical Oncology
Medical License - State of Illinois
Central Illinois Community Clinical Oncology Program, Investigator
Central Illinois Community Clinical Oncology Program, Co-Principal Investigator
Fellow, American College of Physicians
American Medical Association
American Society of Clinical Oncology
American Society of Internal Medicine
Illinois State Medical Society; Macon County Medical Society; Illinois Medical Oncology Society
---
Cancer Care Specialists of Central Illinois, S.C.
2880 N. Monroe - Decatur, Illinois 62526
(217) 876-6600