Perry P. Guaglianone, M.D.,FACP
Posted: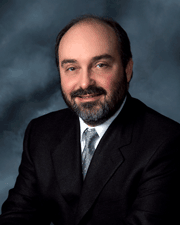 Dr. Perry P. Guaglianone, medical oncologist, joined Cancer Care Specialists of Central Illinois, S.C., during 1999. He primarily sees patients at our main office on Monroe Street, but also sees patients at Dr. John Warner Hospital in Clinton and Shelby Memorial Hospital in Shelbyville.

Dr. Guaglianone received his M.D. degree from the Medical College of Wisconsin, Milwaukee, Wisconsin, in 1986. He completed his residency in Internal Medicine at the Los Angeles County - University of Southern California (LAC-USC) Medical Center in 1989. Dr. Guaglianone completed a fellowship in Medical Oncology at the LAC-USC Medical Center in 1992 and went on to complete an additional fellowship in Hematology/ Oncology at the University of California in Los Angeles in 1993.

Before joining CCSCI, Dr. Guaglianone practiced Medical Oncology at the Dean/Riverview Clinic in Janesville, Wisconsin. In addition to his private practice, he was the Medical Director of Hospice Care of Janesville and also served as chairman of the Transfusion Committee at Mercy Hospital in Janesville. While in California, Dr. Guaglianone practiced Hematology/Oncology at the Center for Cancer and Blood Disorders in Anaheim and was previously a research technician at The Institute of Cancer Research, Pacific Medical Center, San Francisco.
Professional Certifications & Affiliations

Board Certified, American Board of Internal Medicine, Medical Oncology, and Hematology


Medical License - States of Illinois, Wisconsin, and California


Fellow, American College of Physicians


American Society of Hematology; American Society of Clinical Oncology; American Academy of Hospice and Palliative Medicine
---
Cancer Care Specialists of Central Illinois, S.C.
2880 N. Monroe - Decatur, Illinois 62526
(217) 876-6600