Justin D. Floyd, D.0.
Posted: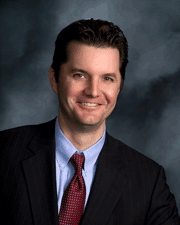 Dr. Justin D. Floyd, medical oncologist, joined Cancer Care Specialists of Central Illinois, S.C., during May 2005. Dr. Floyd primarily sees patients at Crossroads Cancer Center in Effingham, but also sees patients at the Weber Medical Clinic in Olney.
Dr. Floyd received his Doctor of Osteopathy degree from Kirksville College of Osteopathic Medicine in Missouri. He completed an internship and residency program in Internal Medicine at Northeast Regional Medical Center in Kirksville, Missouri, where he was named "Intern of the Year" and received the Resident Master Teacher Award. Dr. Floyd went on to complete a fellowship in Oncology/Hematology at the University of Missouri-Columbia in Missouri.
Dr. Floyd is board certified in Medical Oncology and Internal Medicine and is also certified by the National Board of Osteopathic Medical Examiners. In addition, Dr. Floyd holds membership in the American Society of Clinical Oncology, American Society of Hematology, and American Osteopathic Association. He has given several presentations on cancer-related topics and is active in cancer research. Dr. Floyd also has a special interest in toxicities of chemotherapy, non-Hodgkin's lymphoma, and male breast cancer.
Professional Certifications & Affiliations
Board Certified - American Osteopathic Board of Internal Medicine and Medical Oncology, National Board of Osteopathic Medical Examiners


Medical License - State of Illinois


American Society of Clinical Oncology


American Society of Hematology


American Osteopathic Association


American College of Osteopathic Internists


American Medical Association


Illinois Medical Oncology Society
---
Cancer Care Specialists of Central Illinois, S.C.
2880 N. Monroe - Decatur, Illinois 62526
(217) 876-6600
---
Crossroads Cancer Center
905 Medical Park Drive - Effingham, Illinois 62401
(217) 342-2066