Michael L. Bruin, M.D.
Posted: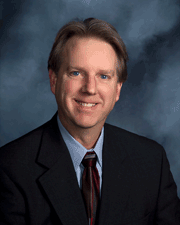 Dr. Michael L. Bruin, radiation oncologist, joined Cancer Care Specialists of Central Illinois, S.C., in July 2000. Dr. Bruin primarily sees patients at our Crossroads Cancer Center in Effingham. He also provides occasional radiation oncology services in Decatur and Mattoon.

Dr. Bruin received his undergraduate degree from the University of California Berkeley, and received a Master of Science in Microbiology from North Carolina State University in 1987. He received his medical degree from Bowman Gray School of Medicine in Winston-Salem, North Carolina, in 1991. Dr. Bruin completed a residency in Clinical Pathology at St. Louis University in Missouri, and was a fellow in Transfusion Medicine at Mayo Clinic in Minnesota. He completed his residency programs in Radiation Oncology at Roswell Park Cancer Institute in New York; at Fox Chase Cancer Center in Pennsylvania; and at State University of NewYork in Brooklyn.

Dr. Bruin holds membership in the American Society of Therapeutic Radiology and Oncology and the College of American Pathologists.
Professional Certifications & Affiliations

Board Certified, American Board of Radiology


Medical License - State of Illinois


American Society of Therapeutic Radiology and Oncology


American Society of Clinical Oncologists
---
Cancer Care Specialists of Central Illinois, S.C.
2880 N. Monroe - Decatur, Illinois 62526
(217) 876-6600
---
Sarah Bush Lincoln Regional Cancer Center
1000 Health Center Dr. - Mattoon, Illinois 61938
(217) 258-2250
---
Crossroads Cancer Center
905 Medical Park Drive - Effingham, Illinois 62401
(217) 342-2066