Renata C. Moore, M.D.
Posted: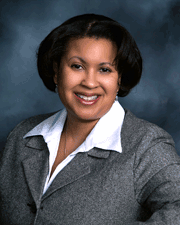 Dr. Renata C. Moore, radiation oncologist, joined Cancer Care Specialists of Central Illinois, S.C., during September 2000. Dr. Moore primarily sees patients at the St. Mary's Cancer Care Center and DMH Radiation Oncology Center in Decatur. She also provides occasional radiation oncology services in Effingham and Mattoon.

Dr. Moore received her undergraduate degree from Alcorn State University, Mississippi, in 1988. She received her medical degree from Pritzker School of Medicine at the University of Chicago in 1993. Dr. Moore completed an internship in Internal Medicine at Rush Presbyterian-St. Luke's Medical Center in Chicago. She completed her residency in Radiation Oncology at Loyola University of Chicago.

Dr. Moore has specialized skills in brachytherapy (gyn, prostate, HDR) and 3-D conformal radiotherapy treatment. In addition, Dr. Moore holds membership in the American Society of Therapeutic Radiology and Oncology.
Professional Certifications & Affiliations
Board Certified, American Board of Radiology
Medical License - States of Illinois and Indiana
American Society of Therapeutic Radiology and Oncology
American College of Radiation Oncology
American College of Radiology
American Medical Association
National Medical Association
Radiologic Society of North America
---
Cancer Care Specialists of Central Illinois, S.C.
2880 N. Monroe - Decatur, Illinois 62526
(217) 876-6600
---
St. Mary's Cancer Care Center
1990 E. Lake Shore Drive - Decatur, Illinois 62521
Phone: (217) 464-2900
---
Decatur Memorial Hospital Radiation Oncology Center
2300 N. Edward St. - Decatur, Illinois 62526
(217) 876-2350