Harold Yoon, M.D.
Posted: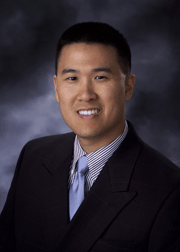 Dr. Harold Yoon, radiation oncologist, joined Cancer Care Specialists of Central Illinois, S.C., during July 2008. Dr. Yoon will primarily see patients at the DMH Radiation Oncology Center in Decatur and will also provide coverage at other CCSCI radiation oncology centers as needed.
Dr. Yoon received his Doctor of Medicine degree from the University of Illinois College of Medicine in Rockford, Illinois, in 2003. He completed an internship at the University of Illinois Department of Internal Medicine in Champaign-Urbana in 2004. Dr. Yoon went on to complete a residency in Radiation Oncology at SUNY Health Science Center at Brooklyn in New York.
Dr. Yoon received the 2007 Kings County Hospital Doctor's Day Award for outstanding service and dedication and also received the 2003 University of Illinois at Rockford Bertram A. Richardson Fellowship award. He also served on the SUNY Brooklyn GMEC Resident Committee.
Dr. Yoon is board eligible in Radiation Oncology. In addition, he holds membership in the American Society of Therapeutic Radiology and Oncology, American Society of Clinical Oncology, and Radiation Therapy Oncology Group.


Professional Certifications & Affiliations
Board Eligible - Radiation Oncology, American Board of Radiology
Medical License - State of Illinois
American Society of Therapeutic Radiology and Oncology
American Society of Clinical Oncology
American Brachytherapy Society
Radiation Therapy Oncology Group
---
Cancer Care Specialists of Central Illinois, S.C.
2880 N. Monroe - Decatur, Illinois 62526
(217) 876-6600
---
Decatur Memorial Hospital Radiation Oncology Center
2300 N. Edward St. - Decatur, Illinois 62526
(217) 876-2350