Another week in central Illinois means another week filled with the chance of wintry weather. This week brings multiple impacts, not only with the potential of accumulating snowfall, ice and rain but also bitter cold temps.
The wintry mix is set to arrive late tomorrow morning, likely between the hours of 10 a.m. - 12 p.m.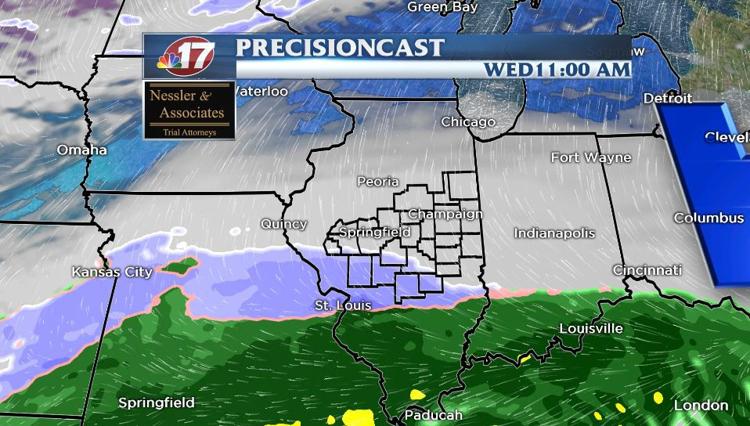 By the afternoon commute, most of central Illinois will be seeing snow showers, a wintry mix (ice/sleet/freezing rain) or rain showers. This will likely lead to slick travel on roads for the evening commute, plan accordingly. The rain and ice scenario looks to remain along I-70. With that being said, there is the possibility that this freezing line could shift further north towards I-72. This would mean less snowfall accumulations for areas along and south of this line. This could be a very slight shift that could make a huge difference in snowfall totals!
 The best chance for accumulating snowfall will be along and north of I-74. It will be a very close gradient, once again, of who might see significant snow and who might not see much of anything. A very small change in the low pressure track (snow maker) could mean big changes in how much snow we actually receive and where, something important to remember during this event.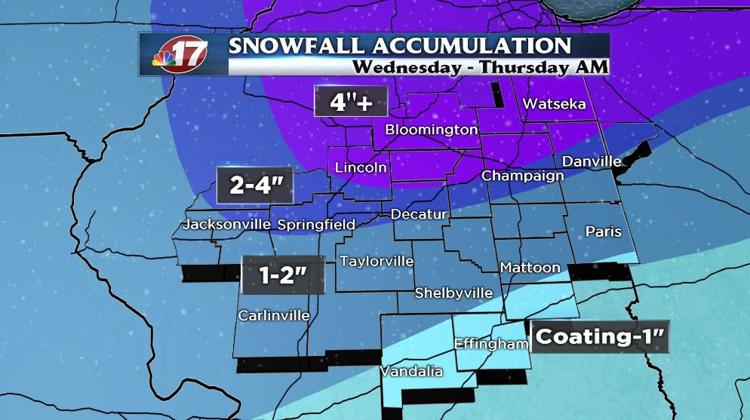 The snow/rain showers will last into the first half of Thursday. Things look to wrap up just after lunchtime, but that doesn't mean we're all said and done with this system just yet. Arctic high pressure will quickly follow the snow showers. Temperatures will tumble into the teens for much of our Thursday, with overnight lows falling to at or below zero by early Friday morning.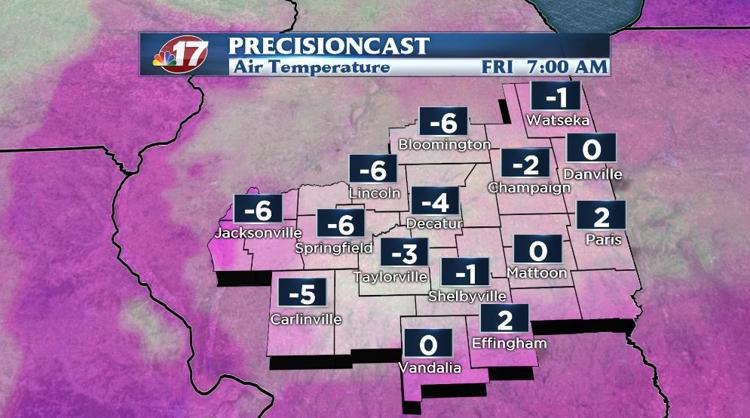 Winds will become increasingly gusty Thursday night into Friday morning, with gusts up to 25+ mph. Wind chills are expected to range from -10° to -20° by the time many are headed to work or school. These will no doubt be the coldest temps of the season so far!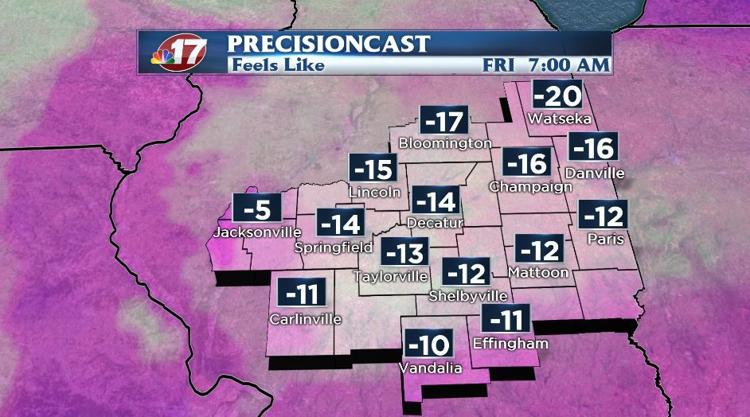 The good news? Temperatures will quickly rebound back into the 30s and 40s throughout the weekend! As always, this is an evolving and changing forecast so stay tuned for updates.