(WAND) - An active day of weather is on the way for central Illinois. Both dangerously hot temperatures and strong to severe storms are all possible heading into the rest of Monday.
Parts of the viewing area are under a Heat Advisory from 12 p.m. - 7 p.m. due to dangerously hot temperatures. This includes Springfield and Jacksonville, but also the counties of Cass, Menard, Scott, Morgan, Macopupin and Sangamon. As temperatures climb to near 90, our dew points will be well into the 70s with heat indices in the 100s. Limit time spent outside and keep a close eye on outdoor pets and the elderly.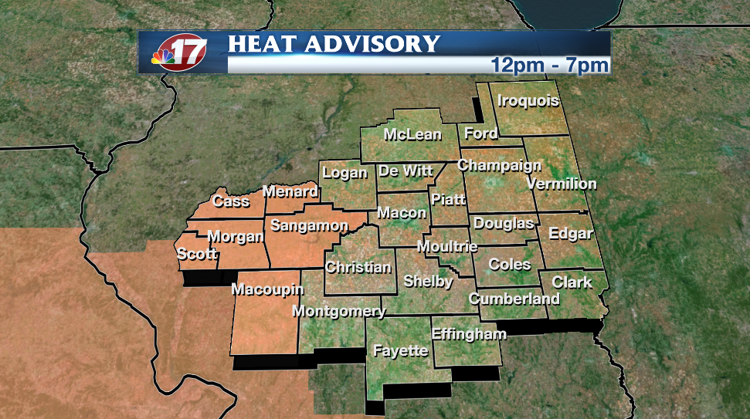 The Storm Prediction Center (SPC) has placed areas from Springfield to Champaign and northward under an Enhanced Risk for severe storms. An Enhanced risk is a level three of five and is outlined in orange and includes Springfield, Decatur, Champaign, Bloomington and Lincoln. This area has the best chance of seeing strong storms. There are also areas under a Slight Risk for severe storms, which is a level two of five outlined in yellow. This includes counties south of Interstate-72 and north of I-70, places like Jacksonville, Taylorville, Shelbyville, Mattoon and Paris. These counties should also be alert for strong storms today. Areas along I-70 are under a Marginal Risk for severe storms, which is a lower risk, one of five.
Gusty winds in excess of 60 mph, heavy rain, frequent lightning, and isolated small hail will be the primary storm threats. However, there is a small possibility of an isolated/brief tornado spin-up with any storms that fire ahead of the main line of showers and storms.
The timing of this system has not been consistent. But as of Monday morning, the time frame appears to be from 5pm-midnight. Storms could begin to form as early as 4 p.m.- 5 p.m. with a powerful line working through the area until about midnight.
Make sure your weather radios are on and have fresh batteries. Also, be sure to have a way to receive weather warnings when you are asleep, as some of these strong storms could occur when many people are already asleep.