7/22/2013

Sometimes you just feel dumb. Like when you step wrong off a small step and go down. My balance is off, my joints are loose. All signs of being 9 months pregnant. I should know better, but sometimes stuff just happens. Like when I went to step off a small step Sunday evening and my ankle rolled. It took me and the baby down. Now, Thank God, I rolled/fell on to my side and instinctively protected my stomach. No harm done to Mr. Peanut is acting totally normal in there. Scared hubby to death. He's a wonderful caretaker. Had me propped up with ice in no time flat.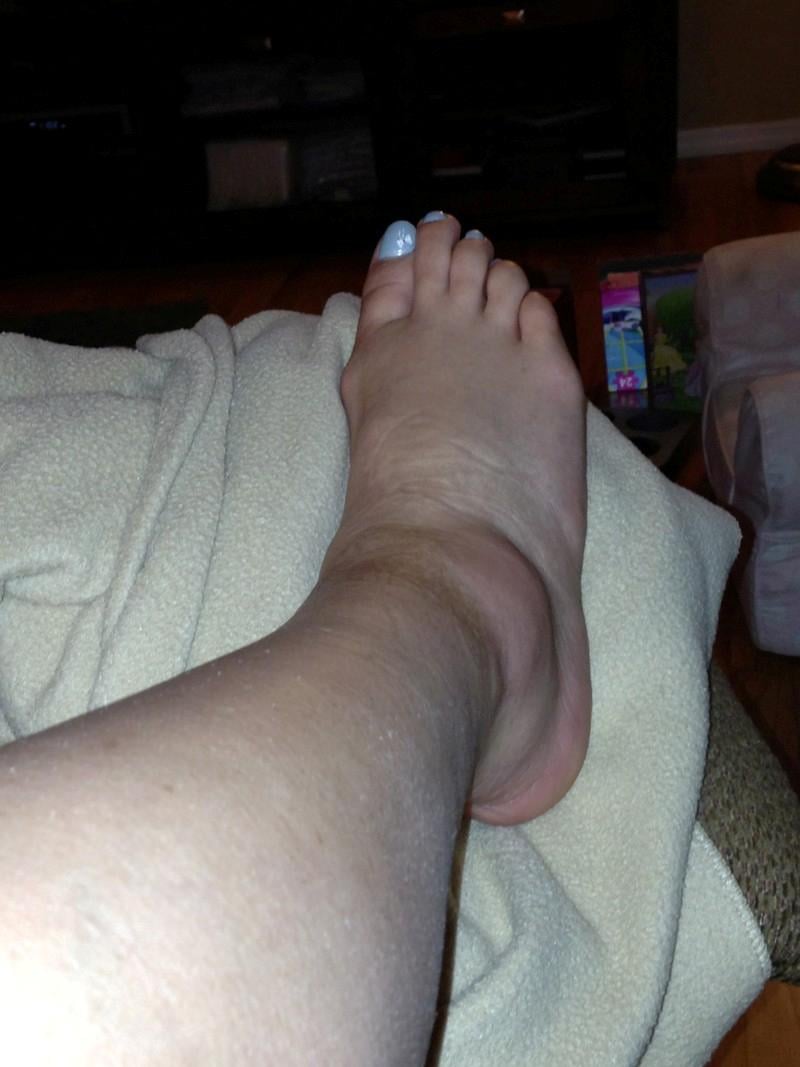 This is the damage done as of this AM--
A nice big ol' swollen/sprained ankle. Ice and rest. Can't put any pressure on it yet. Being pregnant you can't take ibuprofen. You can't get x-rays. So I'm just laid up. Pain isn't too bad today. I have crutches thanks to a friend at work. Just picture me, huge belly, using crutches to go to the bathroom. It's quite the site considering the "Baby on the Bladder Syndrome" I have right now. And because I keep things WAY toooo long... I have an air cast down the basement that I will be using as of tomorrow. However, the studio is DOWNSTAIRS, so don't know how I'm going to pull that one off.
As anxious as I was to have Mr. Peanut come meet me, his dad and big sis, NOW I'm hoping he holds off for a bit until I can heal enough to be able to get up and down with reason to take care of him.
---
Waiting for Mr. Peanut to make an appearance
7/15/2013

Once my new arrival decides to make an appearance... I'll be on maternity leave for a while. I will miss my daily interactions with viewers. However, I will be checking facebook and posting some updates throughout the time I'm gone. We will see how everything goes. I have a feeling I forgot how tiring a newborn can be. Plus, I think it will be just a smidge harder with a four and a half year old "mom" helper in the mix.
She has been such a big help recently with her year and a half old cousin and a friends 2 month old. She really is going to be great big sister. I think there will have to be an adjustment on my part to LET her help.
Also, my mom will be here for the first few weeks to help with Ella and the baby. I think this will be great for Ella. Here's a picture of my special daughter with me for my 35 week belly picture.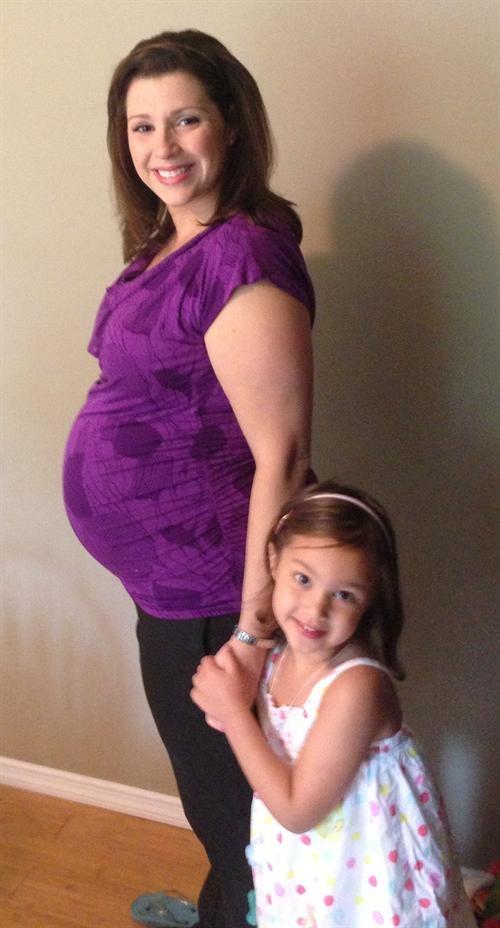 Now, when I see some of you out and about you tell me I look like I'm going to "pop" on the news. I feel like it some days! First off, I think that I am as big in the previous picture as I was when I delivered Ella--and lets not forget that was taken with 5 weeks to go! (give or take, likely take) Is he bigger because he's a boy? I think so. Secondly, most of you say I look smaller is person. I get this all the time even when I'm not pregnant. Yes, you do look bigger on TV. I had a lovely woman, who knows me and works with my husband tell me that I'm all belly. Boy did that make my day. Never tell a pregnant woman she looks gi-NORMOUS! We know. We are carrying the baby! For the most part people have told me I looked beautiful and glowing. And I REALLY appreciate it, because you really don't feel beautiful at this stage. Everything is awkward: bending, getting out of bed, walking.... everything.
None of the comments bother me because I know I've had a healthy pregnancy and it doesn't matter how big I get, as long as I have a healthy, happy baby, which I pray for daily.
---
There's furniture in baby's room!! I'm 37 weeks on Friday, which is considered full term and FINALLY there's furniture in there. Take a look...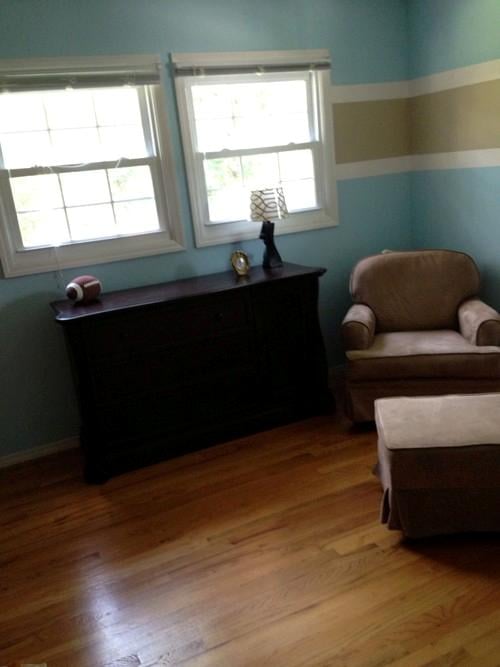 No the crib isn't up yet. That will happen this weekend, fingers crossed! Ella has her new furniture in her room and its all done. The best part for her is her bedding. She got to pick what ever she wanted and she went with her favorite, Hello Kitty.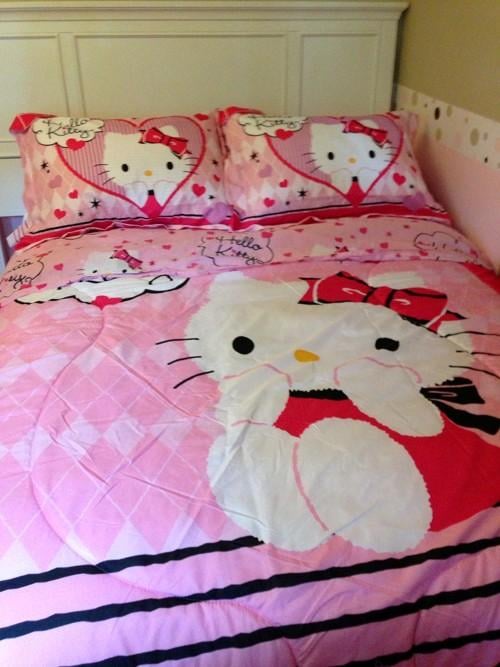 I think it's so cute. She loves her big girl bed. Went with the full size mattress so we won't have buy another one in 5 years. As my husband was removing the toddler bed he said "I really thought she'd be in this longer." She was in it only for a year and a half. She was in her crib (Mr. Peanut's crib to be) for three plus years!
Things are slowly getting put into drawers instead of the closet. I have his diaper bag packed for the hospital and my bag is nearly packed. The bottom line: it's getting close. Again, I am due August 2nd, but I had Ella a week and a half early so just incase he follows the same trend, I'm ready.
---
I am worried about my friend. And her babies. I am talking about Stacey Skrysak. Stacey and I have become close in her short time here at WAND. She is truly a great person and my heart, prayers and tears go out to her family during this time. Stacey has shared with me her struggles with this pregnancy and now the delivery of the babies and the passing of Angel Abigail. Until now, I haven't posted anything on Facebook or Twitter, for a reason. It's Stacey and her husband's decision to share their triumphs and sorrows. I get asked daily about Stacey and share what she has shared. I can tell you I know I would not be as open. She is a special person, and knows sharing will help someone else.
It is hard being 8 plus months pregnant with a smooth pregnancy when a friend is hurting. It's hard for me to be pregnant and think about losing a baby. Holding my baby only to lose him/her. As I have shared before my best friend lost her first child at 6 days old because of a genetic disorder. The pain of losing a child is said to the one of the worst. It's something I still can not wrap my mind around. Stacey and I have shared the funny bodily functions and common complaints of pregnancy while putting on makeup together. I never imagined this would happen.
My blog posts are mainly a light-hearted look at what is going on in my world. It has been hard lately. I am having a hard time sharing what is happening with my baby's room, knowing Stacey is just worried about her babies survival. However, Stacey being the trooper she is has "liked" everyone of my posts and pictures about my baby or pregnancy. I know now I am blessed to have a light hearted look at things about four weeks out from delivery. I wish she could have had the same. However, I know Stacey and I hope all of you can share in my happiness and continue to pray for Stacey and her family.
---
7/1/2013

Nesting and creating, my brain hurts.
I am a novice sewer. Can I make curtains? Yes. Can I make a pillow? Yes. I can make adorable towels for arriving babies? Yes. Can I make a basket liner? Yes, but it took a lot of work and it hurt my brain.
I am a pretty crafty person. When I first moved here, after I received a $1500.00 quote to re-upholster 3 cornice boards in my house, I did it my self for $50. I made my own curtains, I made blankets and burp cloths when pregnant with Ella. My goal was to make a basket liner for baby boy's room to replace this pink one from Ella's room. It holds diapers and wipes on the changing table.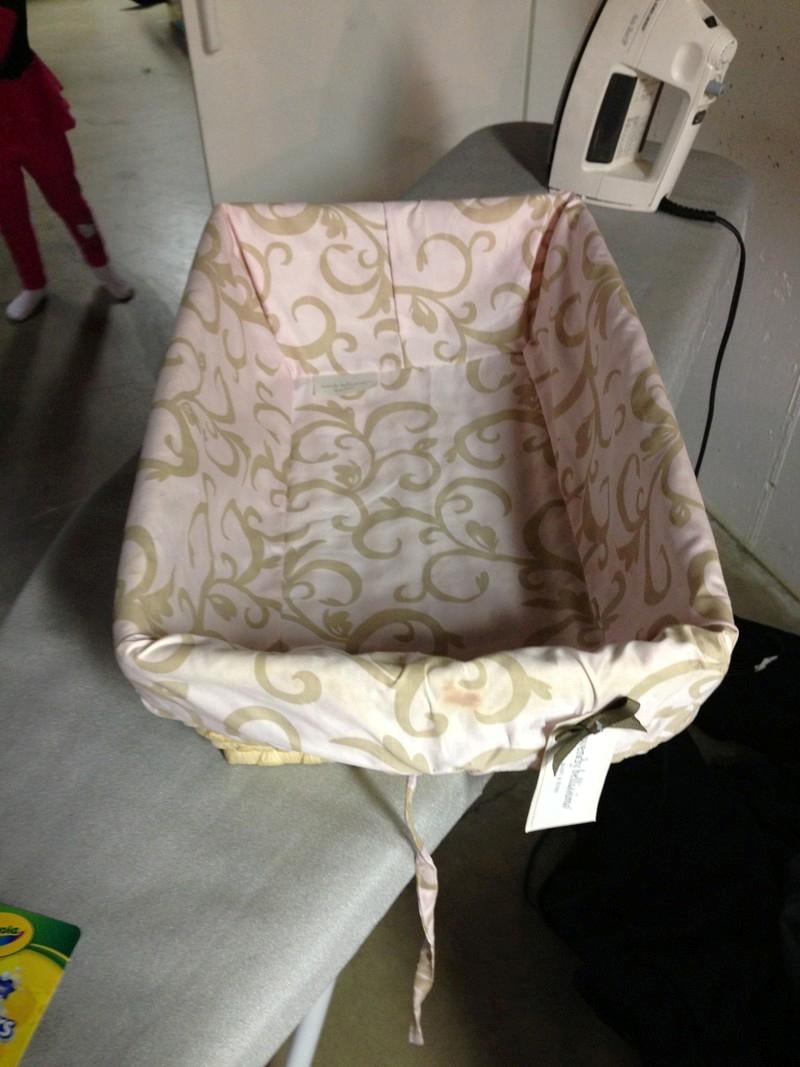 So I purchased $5 worth of fabric and off I went, using the pink one as a guide. It hurt thinking about sewing it inside out. It hurt my brain to cut 2 different lengths and then a different bottom. It took all my brain power, and low and behold---IT DIDN'T FIT! I was so frustrated and I thought I might bust into tears. Baskets are rectangular, bottom smaller than the top. Complicated math all around.
Of course I didn't have any fabric left. So back to the store to buy $8 worth of fabric. When I went to do it again I first searched www.pinterest.com for a tutorial. Thank you to the woman who mapped it all out for me. She taught me an inverted trapezoid, step-by-step it was all there for me with pictures.
When it fit--without even being "fitted" I was so excited!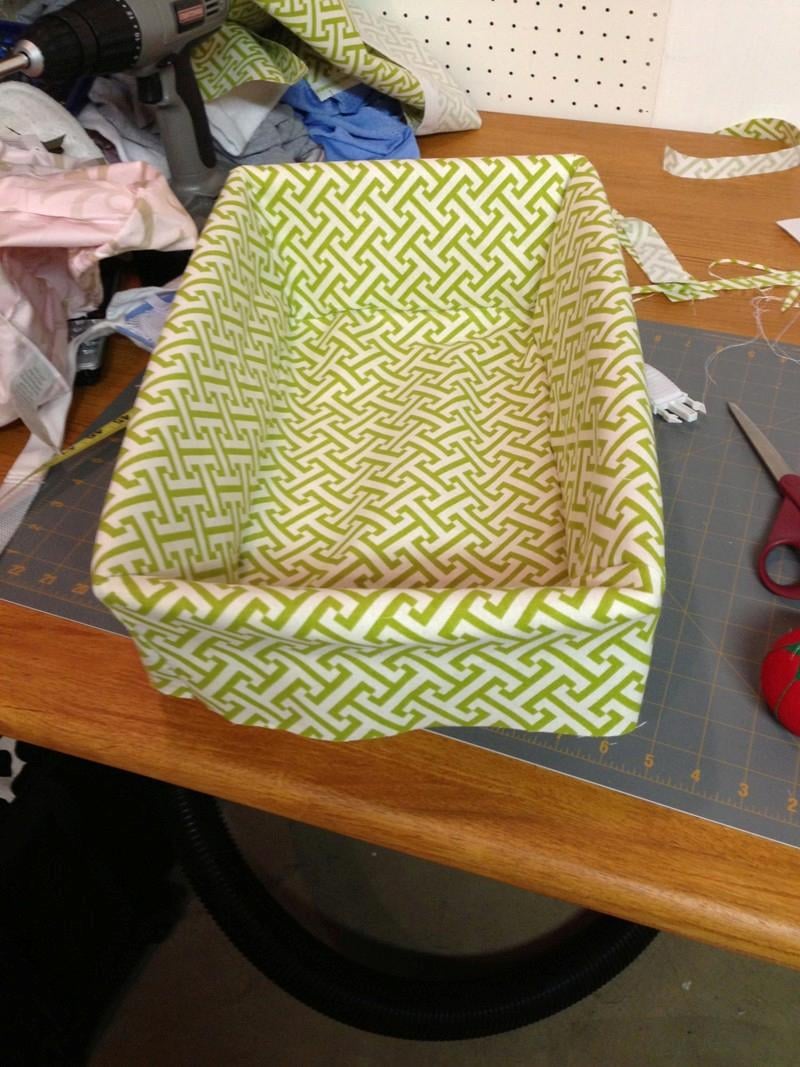 Then to trim up and fit the sides.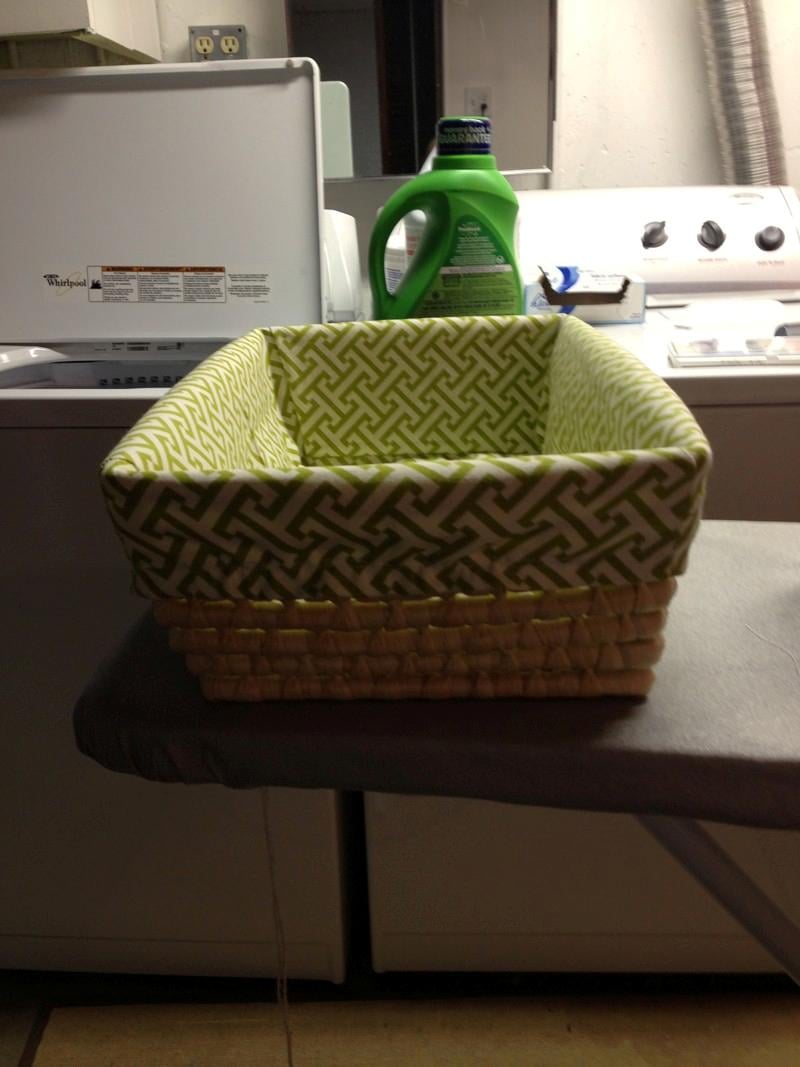 I wanted to start singing the dang Dora the Explorer song. "We did, we did, yeah well we did IT HOORAY!" Well, I did it thanks to the tutorial.
I would make more things for my son, like blankets and burp cloths, but I am done. The basket was enough. I did buy the fabric to make a car seat canopy, but it's cheaper just to buy one. I took the fabric back. It wasn't cheaper to buy a new basket with a boy colored liner, because I love that basket, it was overpriced to begin with and I had to have it and registered for two when I was pregnant with Ella. I am happy I get to reuse it. Plus I can say I did make something for this baby's room. There may be a coordinating pillow soon, but that's as far as this momma is going!
You can log on to www.pinterest.com and follow the wand page and look under my picture. I pinned the tutorial under there if you're interested.
---
6/24/2013

A little Mommy and Daughter Time
With Mr. Peanut soon to arrive, I am trying to carve out time with Ella. I have to say I love having a little girl. Especially a girly girl, which she is! We had such a nice rainy Saturday the other weekend. I took her for her first Manicure and Pedicure at a salon. Mind you, I've been painting her little piggy's since she's been 18 months old, but this was the first time with me at the salon.
The only place I could think of that had kid chairs was Nail Pro at Hickory Point Mall. They did a fantastic job. She was so excited was so patient sitting there!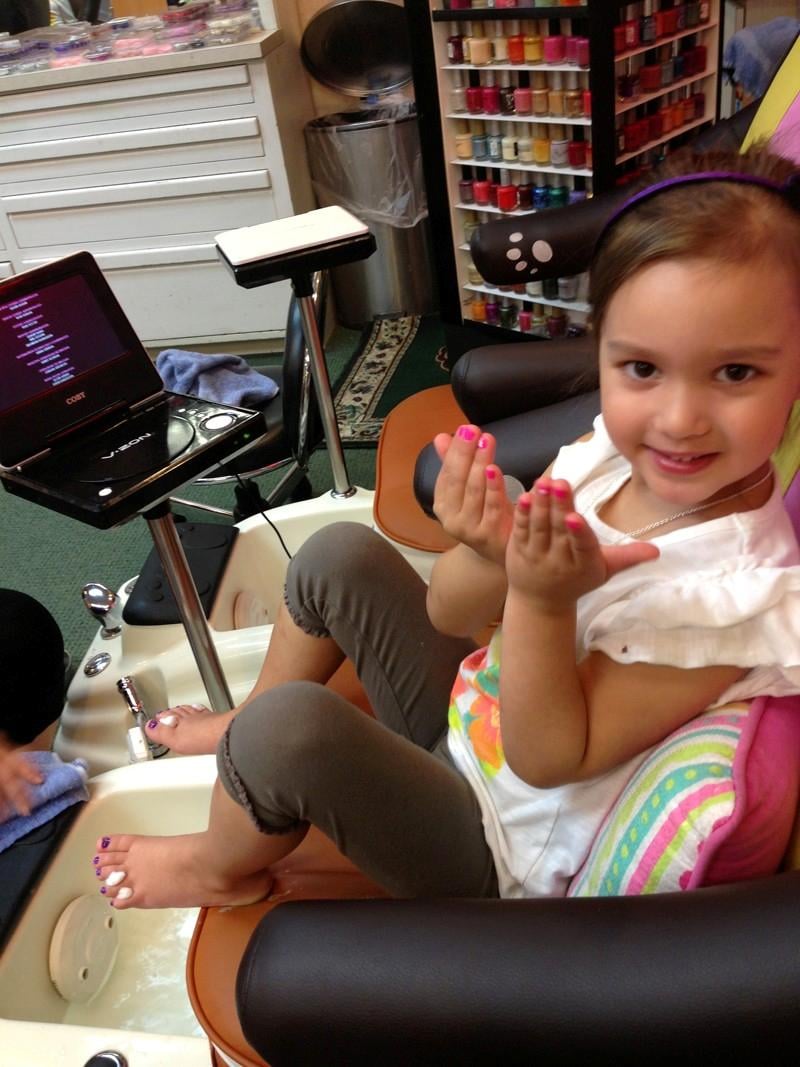 I am looking forward to my son, but I am happy to have a mani/pedi partner for the rest of my life.
---
6/17/2013

Big changes
Everything changes when you have a baby. That is true. Your heart, your fears, your worries and your priorities. But I'm learning they change with each baby you have and mine isn't even here yet! My house is undergoing big changes. Things are moving out, things are moving in, things are being painted, cabinets are being re-arranged. I know it's all for the good of our new impending arrival, but it's a lot of work. And of course you realize how much stuff you accumulate over the years! In addition, I know how spoiled my daughter is because I can't find a spot for all of her toys.
I've done something many of my friends have done, take a look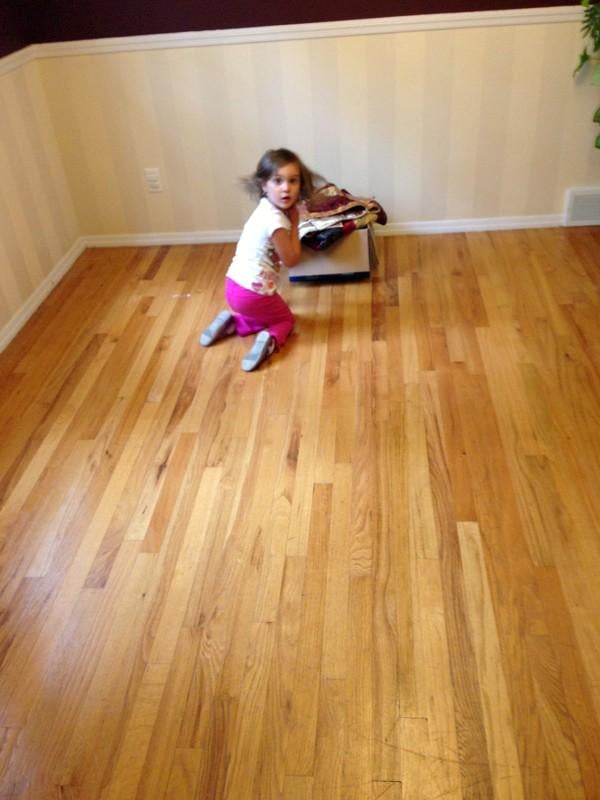 That used to be my dining room. The place where so many formal parties took place in our home over the years. Yeah right! It was never used, but it sure did look pretty. It will now become a playroom, right off the living room. I know Ella is not going to want to be "shunned" to the basement to play with all of her toys once Mr. Peanut arrives and I'm not going to feel like going down there with him to sit on the ground and play. So this seemed like the easiest solution for all. I can keep an eye on her and the baby.
I am running out of energy to get a lot of stuff done, but I can happily report--the room is finished being painted! I love the way it turned out!!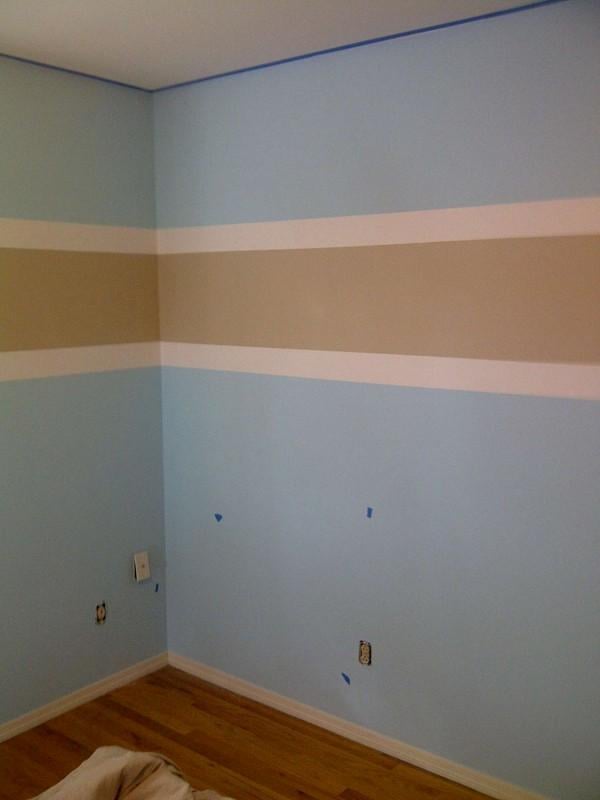 Hope you like sharing my pregnancy journey! Hard to believe it's almost over. Do you think I'll get everything done?
---
6/10/2013

Nursery
The painting of the room has commenced! Oh happy day! I think Ella's room was almost done by this point in my pregnancy last night. But this time is different. Mr. Peanut's room is a spare bedroom so we needed to keep it that way for a while longer and we needed to figure out what to do with all our stuff we had in the closet. Think lots of my suits.
Well finally the day has come! My husband started painting. I love the color I picked it's a sky/robin's egg blue and I love it. It's soft.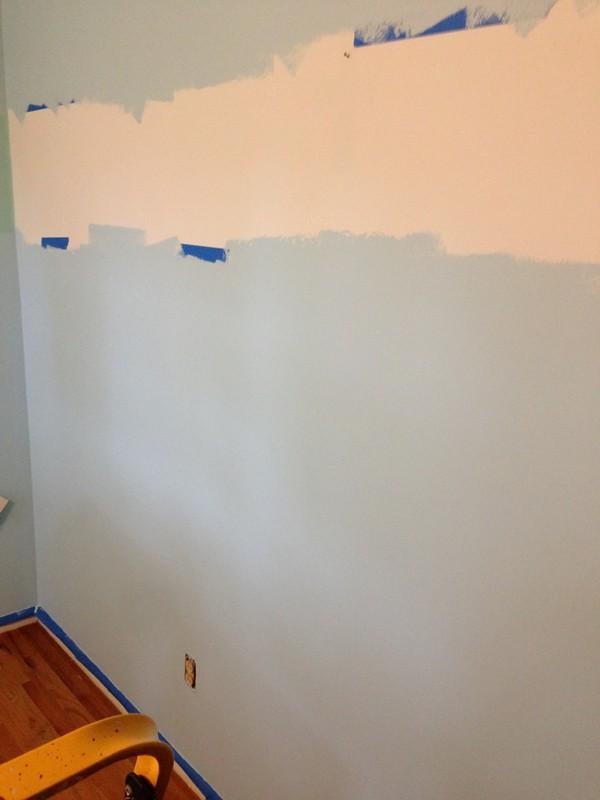 In the middle are stripes, a beige and white. I am very happy with it. Stripes are not fun for Scott. In fact he's dreading it. It's because he's a perfectionist. Thank goodness though, because while I like certain things perfect I know my stripes would not be perfect.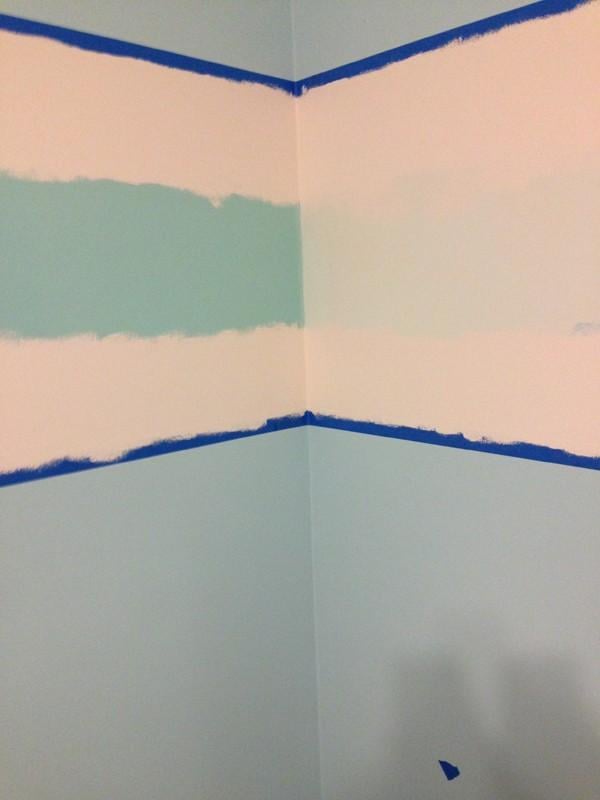 I already posted a picture of bedding so the colors on the wall compliment. However, I did buy a couple sports themed items. I got a football piggy bank and a clock that looks like a baseball glove. Very cute additions without being overly sporty.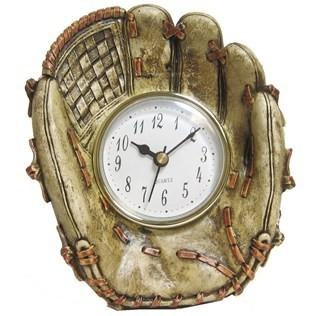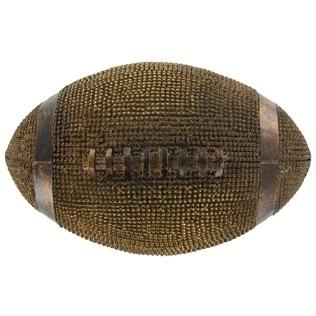 When my mom was visiting she washed all his clothes, blankets and burp cloths. They're neatly folded in the closet until we get the furniture in the room and I can put them in the drawers. My good friend, Kristin threw me a beautiful shower (I know I am soooo lucky to have a second baby shower and I'm very spoiled by all my friends and family) so I have nearly everything I need.
We had to get new furniture for Ella. We are waiting for that to come in before we more her current baby furniture into my little guys room. She gets a new bed and her choice of bedding, which of course was Hello Kitty!
---
6/4/2013

Big Sister Class
We recently took a Big Sister/Big Brother class at the hospital. I thought it would be a good idea to make my daughter feel special and so she could understand what happens when I head to the hospital to have baby boy. It was so neat. There were about 6 others big brothers/sisters to be. All of them were Ella's age except for a 6 year old and 8 year old. I'm sure this isn't a class for a two year old, but it was so great to see many other parents who waited 4 years in between kiddos!
To describe the class it was set up as a "hunt" with a bag full of goodies including binoculars.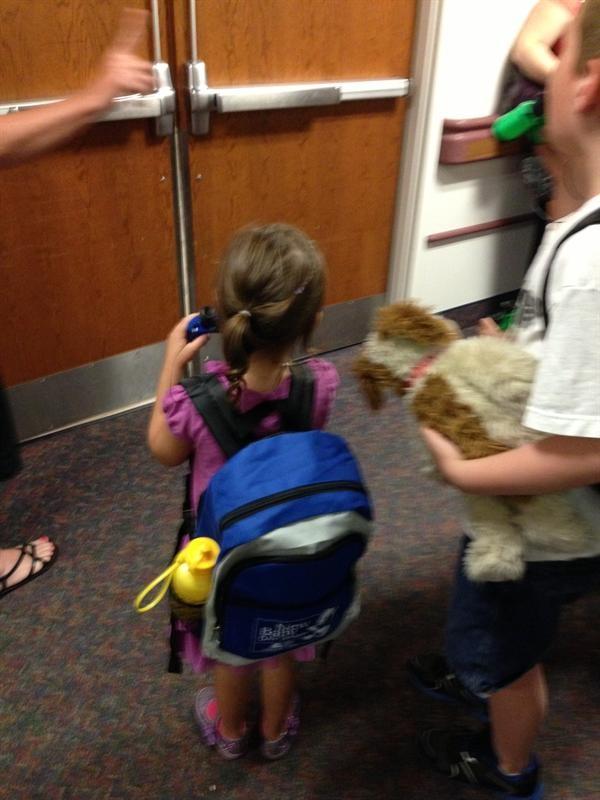 A couple of the kids favorite parts were riding the bed up and down, hearing their heart beats on the monitor, and when the "big" light came down from the ceiling. I will say having a boy, I noticed how different boys are from girls. There were only two girls in the class, one of them mine. The boys are just so much busier. I don't really know how to explain it. It was neat seeing the differences.
After the tour the nurse made them all diaper a baby doll so they could help mom and dad when the time comes. She explained that the baby's head will be wobbly and you can never pick up your brother or sister without your parents help. The nurse also made them swaddle up the baby doll just how the hospital does. See below: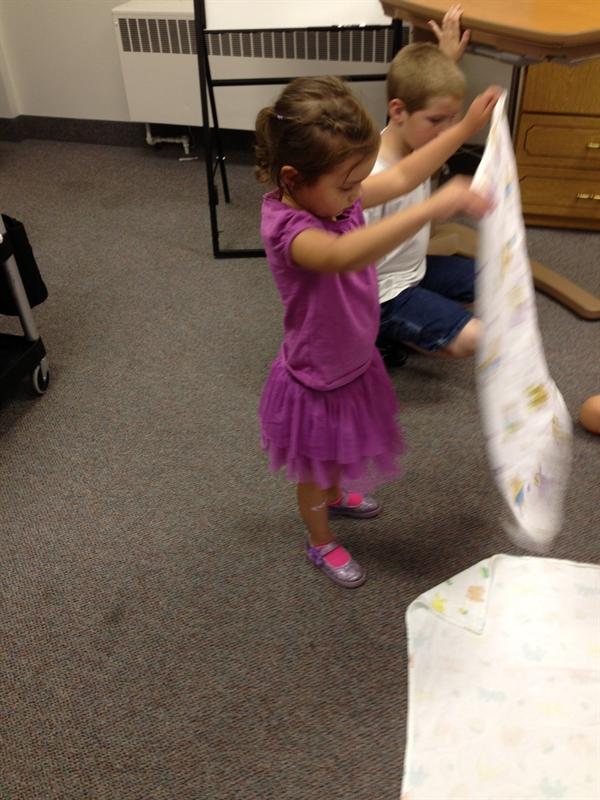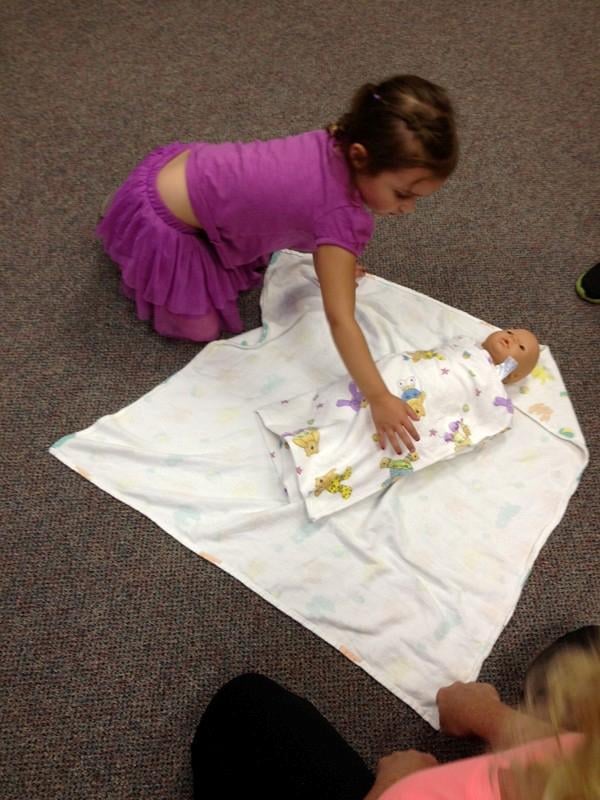 If you are having another child or have a son or daughter adding to their family I highly recommend a class like this. It empowers the children to be great siblings and gets them even more excited for your impending arrival!