Illinois Guardsman Receives Award for Work in and out of Uniform
Posted: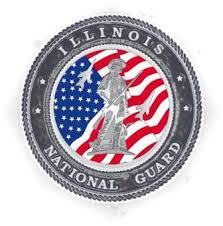 DECATUR, IL - Capt. Aaron Tvrdy of Chicago has been honored with the Douglas MacArthur Leadership Award for the state of Illinois, an award reserved for the top leaders in the country.
The award recognizes company grade officers who best demonstrate MacArthur's ideals: duty, honor, and country.
"I am proud to be selected by state leadership to represent the many terrific company grade officers within the state of Illinois," said Tvrdy, the assistant engineer officer from the Illinois Army National Guard's 404th Maneuver Enhancement Brigade in Chicago.

Those who served with and commanded Tvrdy say he is very deserving.

"As long as I have known Captain Tvrdy, he has striven to improve himself and those around him by hard work and determination," said Lt. Col. Craig Holan, Battalion Commander of the 766th Eng. Bn., in Decatur.
The MacArthur Award aims to promote and sustain effective junior officer leadership in the
Army, by recognizing those who go above and beyond. Tvrdy, served as the company commander for the Field Support Company (FSC) of the 766th, led his Soldiers to win the title of the National Guard's Top Small Modification Table of Organization and Equipment Maintenance Company. The FSC also swept the state, regional and national boards of the Army Award for Maintenance Excellence, earning the right to compete at the Department of the Army level against the Active and Reserve component winners.
Tvrdy works as an architect and recently began establishing his own company building sustainable furntiture. He attributes much of his military success to his work on the civlian side and vice versa.
Tvrdy does not take all the credit for the things he has accomplished. There have been many people helping him along the way, he said.
"I am very grateful to have a supportive battalion and brigade commander who trusted me enough to employ my vision of command," he said. "I feel very fortunate to have commanded the best Soldiers in the state of Illinois."