CHAMPAIGN, Ill. (WAND) - Law enforcement and investigators paid respects to fallen Champaign officer Chris Oberheim in a press conference. 
Oberheim, a 13-year veteran of the Champaign Police Department and former member of the Decatur Police Department, was one of two officer shot when police responded to a domestic disturbance. The shooting occurred just before 3:30 a.m. Wednesday in the 2400 block of N. Neil St.
A second officer was injured in the shooting and is in stable condition. 
Champaign Police Chief Anthony Cobb said Oberheim, who was 44 when he died, began his career with CPD in September of 2018. Cobb said the fallen officer represented the true meaning of service through trust and respect and noted Oberheim earned several department and city awards, including police awards for valor. 
"He ensured public safety was more than just a job. It was his calling," said Cobb, who went on to call Oberheim a hero. 
Mayor Deborah Frank Feinen came to the podium after Cobb. She talked about the issue of gun violence.
"I ask our community to join me and recognize the good work and sacrifice of the people of the Champaign Police Department," she said. 
Illinois State Police talked and said the ISP Division of Criminal Investigations was requested by Champaign police to investigate the shooting. They said a multi-jurisdictional investigation team is involved in looking into what happened, including the Champaign County Sheriff's Office, University of Illinois police and Urbana police. 
ISP said a preliminary investigation showed two police officer arrived and encountered an armed suspect before gunfire was exchanged. The shooting suspect, identified as 24-year-old Darion Lafayette, was killed.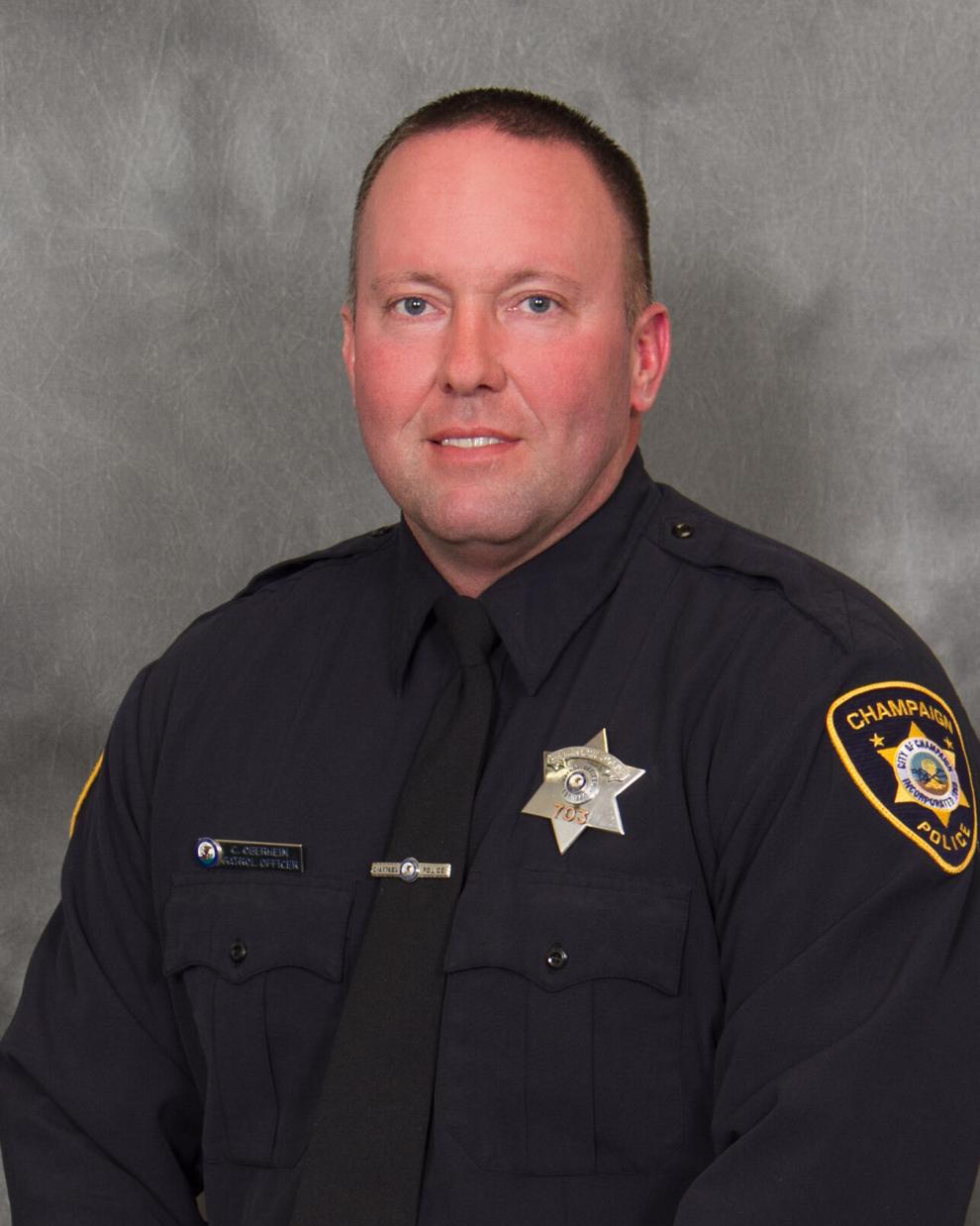 "A true professional and devoted public servant, Officer Oberheim is remembered for his heroism, bravery, and the oath of office he honorably upheld in his commitment to duty," said Cobb. 
The Decatur Police Department thanked Officer Oberheim for his dedicated service in a social media post.

A Decatur native, Oberheim was a parent of four daughters, three of which attend the Monticello School district, according to Superintendent Vic Zimmerman. 
"Our thoughts and prayers are with his family during this difficult time. Police Officers, Firefighters, and other first responders put their lives on the line every day to ensure that the rest of us are safe - they are there when we need them during our most difficult times and are often not appreciated for their daily work. Tragedies like this bring out the best in all of us as we rally around them and their families during difficult times.  The Monticello School District, the City of Monticello, and all of Officer Oberheim's fellow officers will rally around the Oberheim Family during this time. RIP 703," said Superintendent Zimmerman. 
The Champaign County coroner said Oberheim was pronounced dead at 6:03 a.m. at Carle Foundation Hospital. 
An autopsy for Oberheim and the suspect are scheduled for Thursday. 
On Wednesday morning, a moment of silence was held on the floor of the Illinois Senate for fallen officer Chris Oberheim. State Sen. Chapin Rose said the partner of Oberheim is one of his best friends in the world. 
Police have not released the name of the officer shot that remains in the hospital, Rose said he is a "standup citizen" and is expected to recover. 
Rose went on to say his friend "coached my son's little league team, volunteers faithfully at our local communities AWANA church program for kids and is defined by his faith." 
"Both of these men displayed the courage and selfless sacrifice that defines our brave men and women," Rose said.
Illinois Attorney General Kwame Raoul also sent his condolences to the family, friends and colleagues of Officer Chris Oberheim, adding that he honors his bravery. 
"These events should serve as a reminder to all that police officers go to work each day not knowing if they will return home to their families. I learned about this tragedy as I was meeting with federal and local prosecutors and other law enforcement authorities to focus on how we can collaborate to fight the increase of violent crime in central Illinois. We must recognize the courage and service of officers who are on the front lines of this effort, and we pray for their safety as they protect our communities," said Raoul.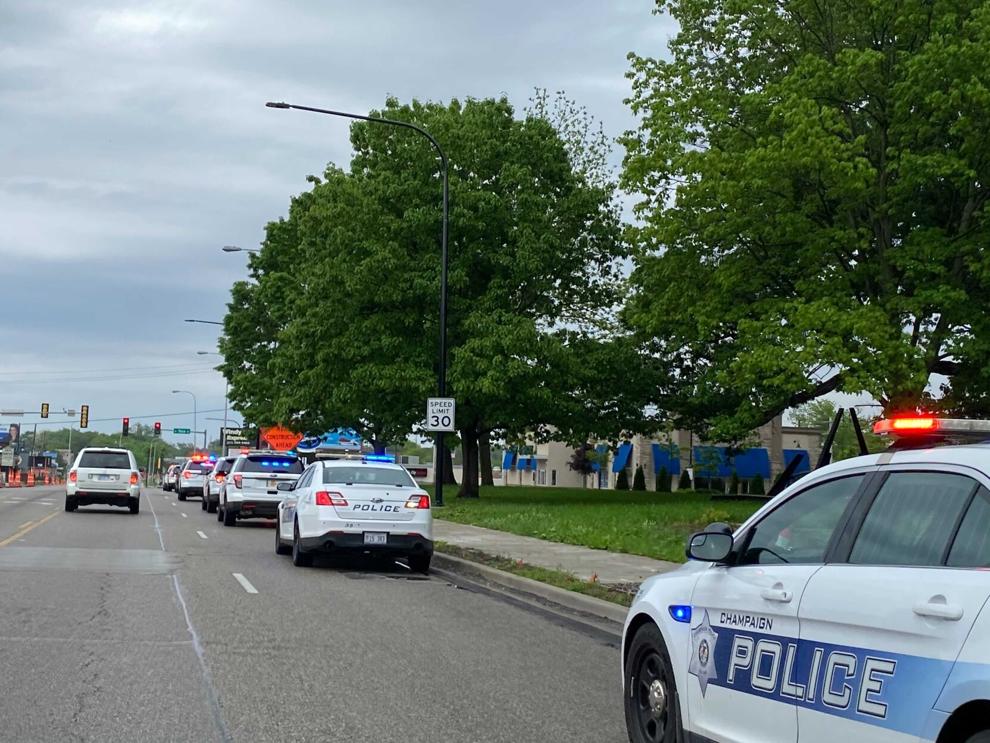 At 8:50 a.m., multiple area officers lined the streets with their squad cars in front of Carle Hospital for a procession for Oberheim.  To watch the procession, click here. 
A statement from U.S. Rep. Mary Miller (IL-15) about Oberheim's death said the following: 
"I am sad to hear of the passing of Officer Chris Oberheim. He was a true public servant and was a credit to the badge he wore. Officer Oberheim put the people of his community first. His life and service should not be forgotten. My thoughts and prayers are for Officer Oberheim's wife and his four children.
"The brave officers in our communities deserve to come home to their families. The public denigration of law enforcement is putting the lives of these public servants in grave danger. I have formed a Law Enforcement Round Table Group to advise me on law enforcement matters. This group will be meeting in June and the focus will be on the need to stop the hatred and violence toward police officers. The attacks on law enforcement must stop. The men and women who wear the uniform have taken an oath to protect and serve. Their service to our community should be celebrated not vilified and especially in the case of Officer Oberheim – never forgotten."