(WAND) - A wintry mess is already arriving in parts of central Illinois. Scattered snow showers will continue to spread across central Illinois over the next several hours. Snowfall rates could be heavy at times, leading to hazardous travel on roadways, reduced visibility, and rapidly deteriorating road conditions. A Winter Weather Advisory is in place from 12 p.m. - midnight Saturday.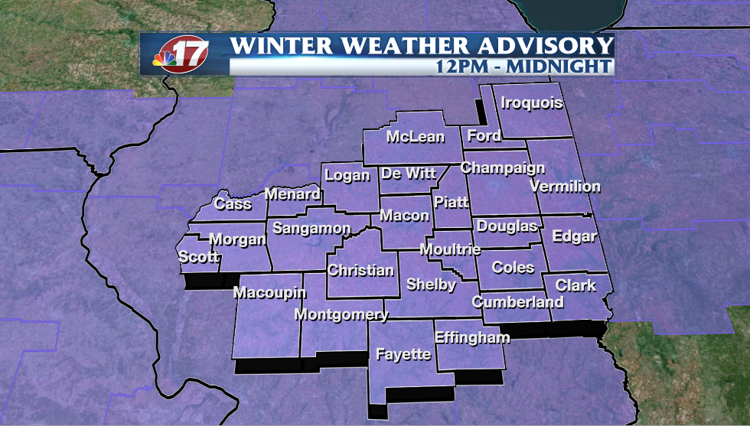 The snow has already begun for our southwest communities. By late morning (approximately 10 a.m. - 11 a.m.) places like Decatur, Lincoln, and Mattoon will begin to see the snow showers. Eventually, Champaign, Danville, Bloomington, will begin to see snow showers between noon and 1 p.m.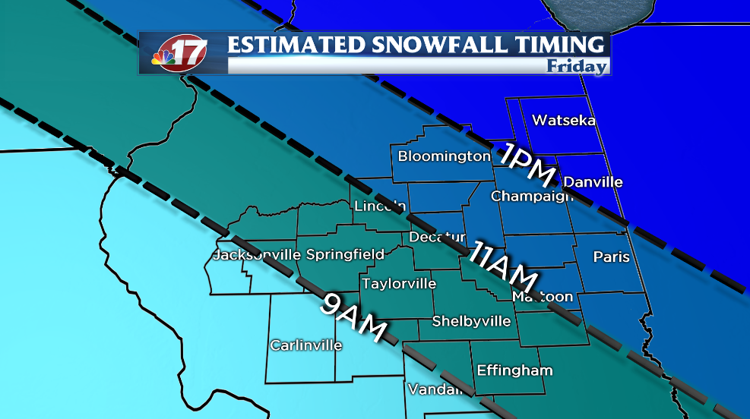 In terms of how much snowfall, accumulations will amount to about 1-2 inches for areas along and north of Interstate 72. Areas south of I-72 could see amounts of around a dusting to 1 inch. Locally higher amounts are possible with the heavier snow bands passing through.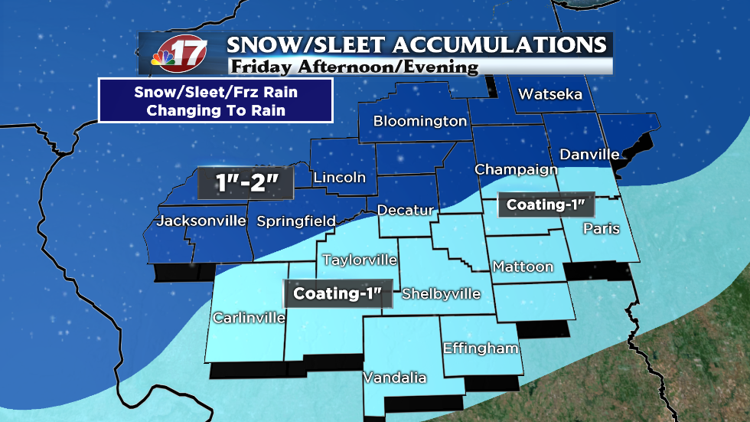 By the afternoon hours, we will expect the rain to change over to freezing rain, sleet, and a wintry mix of snow and rain. Warming temperatures this afternoon and overnight will help the switch over from snow to rain. The timeline of this change over will be between 3 p.m. - 8 p.m. This will more than likely cause a number of issues on roadways for the afternoon commute for many. By midnight, much of central Illinois should be seeing precipitation in the form of all rain. Saturday, things look to wrap up by roughly lunch time. On the tail end of this system, a few light rain and snow showers are possible.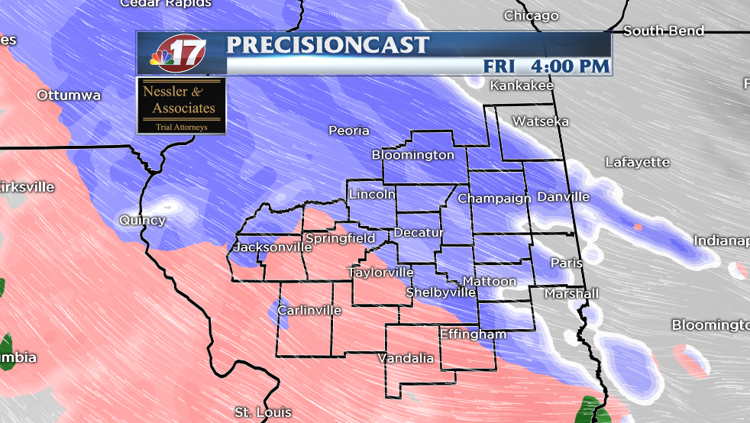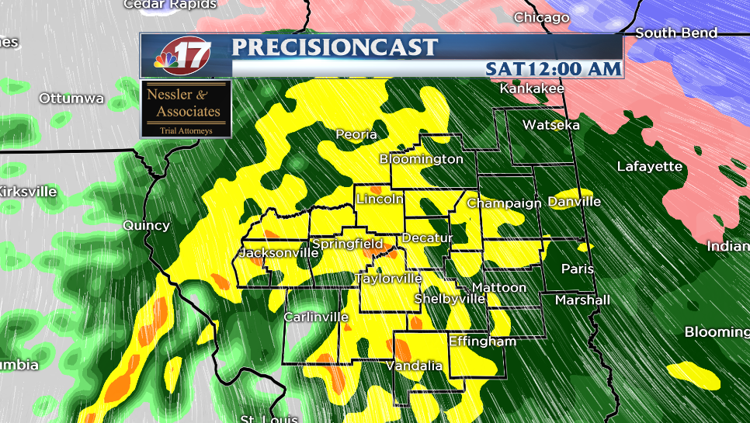 Heavy rain will fall tonight and into Saturday morning, leading to accumulations of 1+ inches of rainfall in less than 24 hours. This is why we have a Flood Watch in place starting at 6 p.m Friday lasting until 12 p.m. Saturday.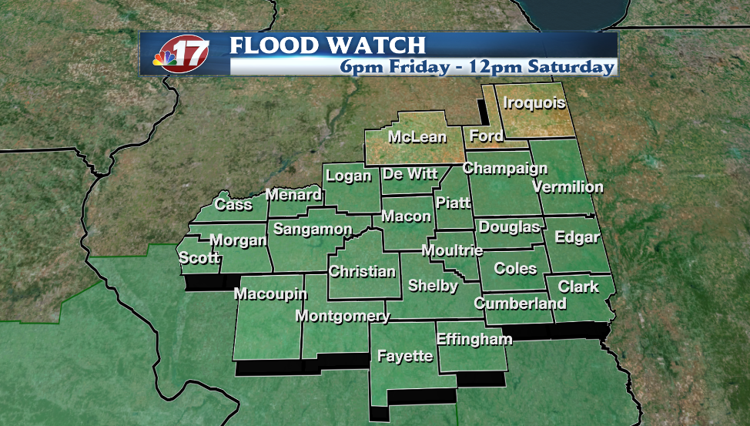 Saturday, the warmest temperatures will happen in the early morning hours. Temperatures will fall rapidly throughout the day, with blustery winds as well. Temperatures will fall about 40 degrees in a span of less than 24 hours. Saturday night's low temp will be in the single digits, with that being said any lingering moisture on surfaces and roadways will lead to icy patches. Sunday and Monday morning's windchill values will be around -5 degrees to -15 degrees.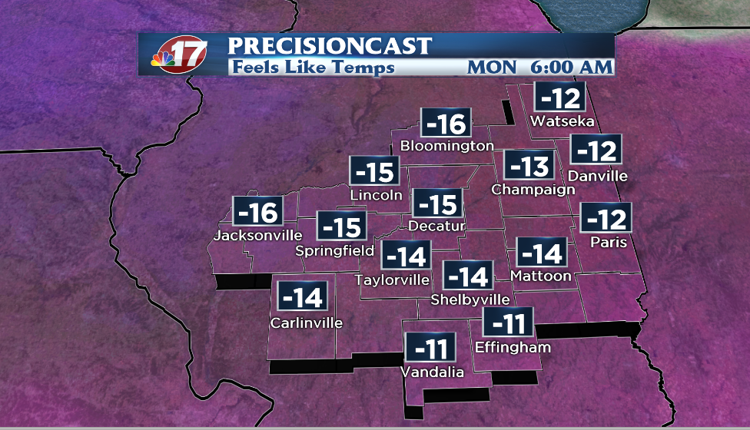 The cold trend of temperatures will continue into early next week. Daytime highs on Monday will only climb into the upper teens with the middle 20s in store for Tuesday.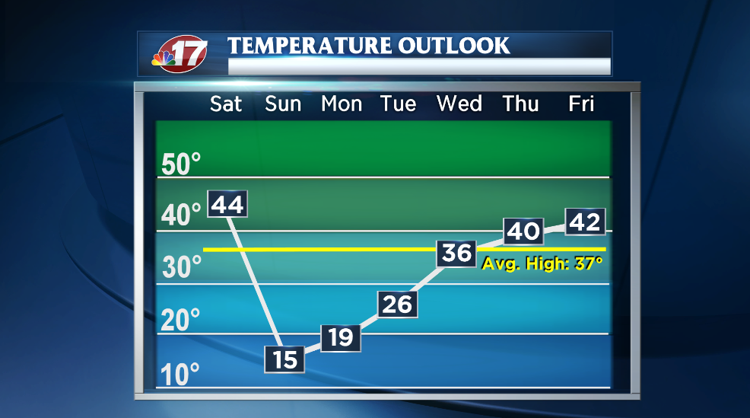 Be sure to stay up to date with the latest weather information by downloading the WAND Wx App and also by following them on social media. Stay safe.