DECATUR, Ill. (WAND) — A Macon Piatt Special Education District teacher's aide admitted to downloading nude images at school and now parents are questioning why he's still employed with the district. 
WAND News started investigating this teaching assistant, at Eisenhower High School, last November after a Decatur parent filed an emergency protective order against him. But records show problems actually started three years ago in November of 2020.
An IT employed emailed administrators about possible nude content on a district device. WAND News obtained records showing an alert went out Friday November 6th, 2020 at 10:31am and 11:58am.
A few days later the teacher's aide was scheduled for an investigatory meeting, where he sat down with school and union officials. District records show he admitted to downloading six nude images to his district device, saying: "I thought I had stored them into my personal desktop." When pressed to explain why he downloaded the images on his school device, during school hours, he said, "I've just been so lonely ... I was looking for comfort."
"If there was material that was downloaded we're going to investigate what the material is, why it's there, what happened, what time of day, that kind of thing," Kathy Horath, Director of the Macon Piatt Special Education District (MPSED), told WAND.
Horath suspended the teacher's aide, without pay, for two days. After the suspension, he was back to class at Eisenhower High School.
"I can't say anything about this employee," Horath said when asked whether the teaching assistant was still being investigated.
Less than two years later, district records show the aide started getting into trouble again.
"She came running up the stairs and said 'Mom I need to talk to you,'" a Decatur mom told WAND News.
This mom said her daughter was one of the troubled teaching assistant's students at Eisenhower last semester.
"She said 'in the classroom he would always call me down to the front, he would be sitting in my seat, he was just always calling on me and I don't understand why,'" the mother added.
She showed WAND surveillance video showing an interaction between the teaching assistant and her child. Records show the teaching assistant was helping her with a locker combination when came up behind her, pinned her hands against the locker and pressed his body against her.
"That is not appropriate whatsoever," the student's mother said.
The district brought the educator in for another investigatory meeting after the locker incident came to light. 
Records show he denied doing anything inappropriate but was suspended without pay for two more days. Then he continued to teach at Eisenhower.
WAND News asked Horath, "Parents of these students feel like this person has repeatedly been harming children and they've been found to have been doing something wrong, and still they're with the school district. So what would you want to let those parents to know?"
"I can't say comment about an employee. As far as all students, we take every complaint seriously," she said.
The case was referred to DCFS and the Decatur Police Department. The Macon County State's Attorney told WAND News, the student sat for a forensic interview with the Child 1st Center in Decatur. Scott Rueter said the teacher is not being criminally charged at this time, though the case is not considered closed.
In the weeks following the locker incident, the same student accused the teacher's aide of stalking her.
"Coming around where she was at and would stand and stare at her or be in her area in close areas— and she would go into anxiety and PTSD attacks," her mother explained.
This led to a third investigatory meeting where the aide denied stalking this student. So, her parents decided to take matters into their own hands. They filed an emergency order of protection, which was granted by a Macon County judge in October. The order was extended until January, but the judge found there wasn't enough evidence to keep a permanent protective order in place.
Emails show, the day the emergency order was granted, the MPSED moved the TA from Eisenhower to Stephen Decatur Middle School. He is still teaching there.
Records show just five weeks after the locker incident, this TA was accused of yet another inappropriate interaction with a female student.
The teacher's aide was brought in for yet another investigatory meeting. While he was not disciplined, Eisenhower Principal Dr. Amy Zahm said, "This is serious, and I do not think it is being taken serious. Same conversation and same situation and same proximity. We have had multiple conversations about keeping appropriate distance from students."
"When are you going to protect the child? And not the person who has had more than one incident? When is something considered serious enough? And why isn't one time enough?" the Decatur mother asked.
She is now demanding the MPSED immediately remove him as a teaching assistant. She is also calling on DPS61 to remove him from his role as the Head Tennis Coach for Eisenhower Boy's and Girl's Tennis teams.
"If the first time his situation in 2020 was taken care of, then it wouldn't have been hands on to my child at this point, or even the ones after," the mother added.
WAND News reached out to DPS61 about this aide's disciplinary record. A spokeswoman said, "As this is a personnel matter, we have no further comment."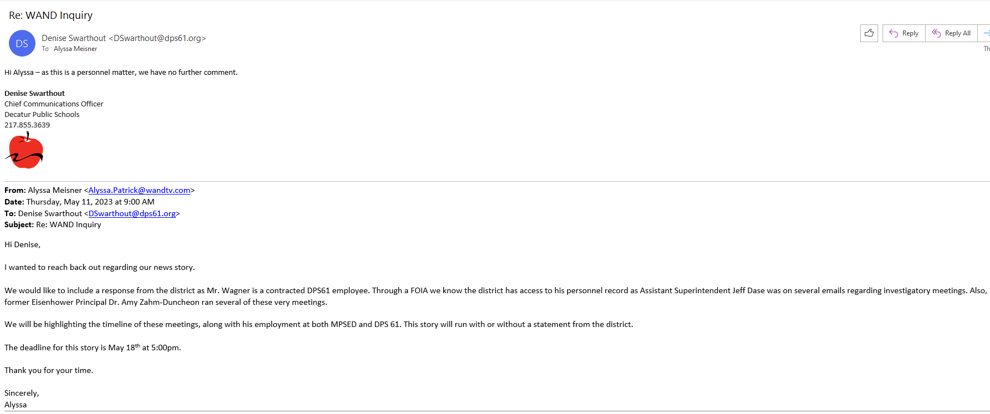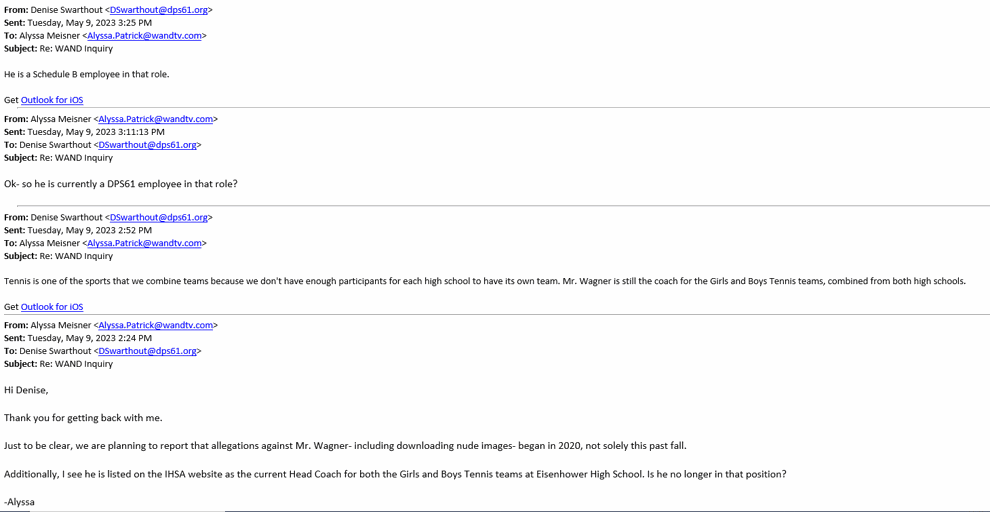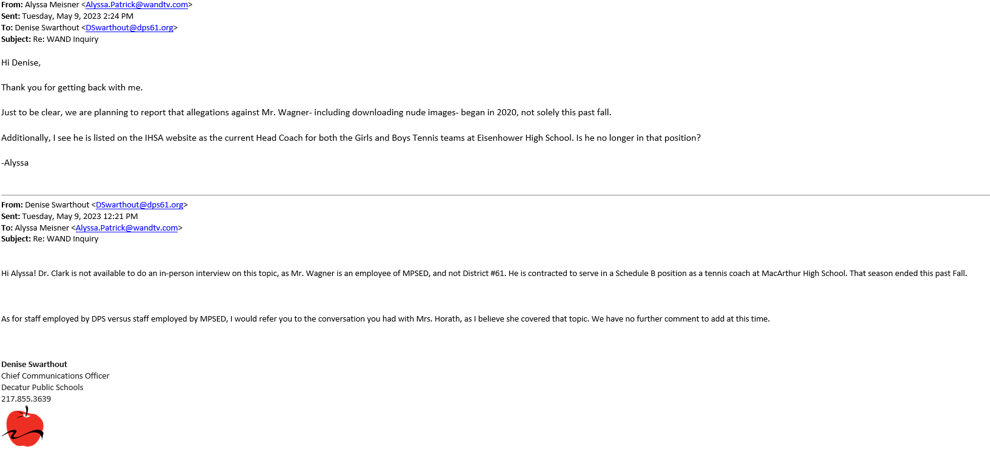 Since WAND News spoke with Horath, she has requested the teacher's aide be transferred to the MPSED offices in fall as a Behavioral Special Assistant. The DPS61 School Board has approved the transfer.
WAND News repeatedly emailed the TA and reached out to his attorney for comment. We did not receive a response.
Copyright 2023. WAND TV. All rights reserved.